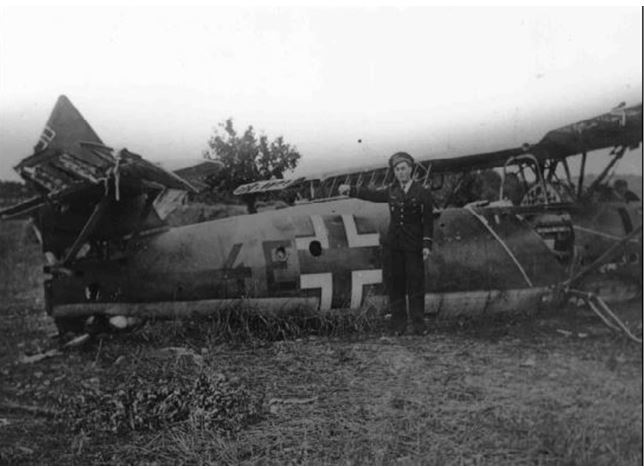 BEAUMONT-MONTEUX, last victory for the French Wings
In the rainy skies over Drôme the "French Wings" scored on 24 June their last victory of 1940.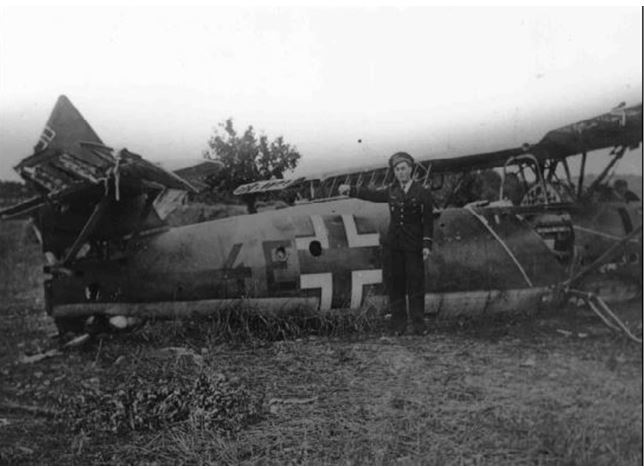 sous-lieutenant_Marchelidon_
Since 18 June, constant rain had been falling in the Rhône-Alpes region, limiting air operations on both sides. From the 21st, Henschel 126 aircraft of 13th Aufklärungsgruppe (13th Air Reconnaissance Group) carried out reconnaissance over Drôme and Ardèche departments.
On 24 June, in the late afternoon, in order to support the defence of Grenoble at Voreppe (Isère) led by General Cartier's joint task force attacked by 3rd Panzer Division (3rd Armoured Division), a patrol of three Morane-Saulnier MS-406s from GC I/2 took off from Montpellier-Fréjorques airfield.
On the way back, east of Valence, at around 6.10pm, Pilot Officer Marchelidon spotted an enemy aircraft coming up the Rhône valley. He began pursuit and engaged it. After several passes, riddled with bullets from the rear, the black-crossed plane plummeted and landed heavily on a field on the edge of Beaumont-Monteux, between the communes of Romans-sur-Isère, Pont-de-l'Isère and Châteauneuf-sur-Isère.
Only the pilot extricated himself from the wreckage; the observer did not move, having been killed by the well-aimed fire of the French pilot. The pilot was wounded, he received first aid from German soldiers present in the area. But he died a few hours later in the German field hospital at Saint-Donat-sur-l'Herbasse.
After German troops withdrew beyond the demarcation line on 5 July 1940, Pilot Officer Marchelidon crossed the Isère with his GC I/2 comrades and posed for a few shots in front of the German HS 126 wreckage.
on ; l'observateur ne bouge pas, il est mort sous les tirs ajustés du pilote français. Le pilote n'est pas indemne ; blessé, il reçoit les premiers soins par des militaires allemands présents sur la zone. Mais il décède quelques heures plus tard à l'hôpital de campagne allemand installé à Saint-Donat-sur-l'Herbasse.
Après le retrait des troupes allemandes au-delà de la ligne de démarcation, le 5 juillet 1940, le sous-lieutenant Marchelidon franchit l'Isère avec ses camarades du GC I/2 et prend la pose le temps de quelques clichés devant l'épave du HS.126 allemand.
BIBLIOGRAPHIE
CHAZALON, Thierry. Résistances ! Les prémices (juin 1940 – juillet 1941), la Résistance débute dès le 23 juin 1940 sur les rives de la basse-vallée de l'Isère. Montélimar : autoédition, 2011. 200 p.