Attempt to outflank Fouillouse Haut strongpoint
Artillery and scout-skiers of 299th RIA hold the Dronero battalion at bay.
Par Bertrand Hubert, Hubert Tassel, Philippe Lachal et Jehan Lande
Access
Sentier depuis Fouilouse
Above Fouillouse hamlet, a stronghold called Fouillouse- Haut denied approaches from Refuge de Chambeyron,Gypière pass...
…Gypière pass, and even Plate Lombarde plateau.
It consisted of two blocks for light machine guns and one block for a heavy machine gun.
All around, robust combat posts were set up and protected by a network of barbed wire.
Additonally two shelters under metal sheetprotected reserve troops. This strongpoint was held by a platoon of 1 Company, 83rd Alpine Fortress Battalion.
During the Italian penetration attempt of June 22, this strongpoint standing under close watch of the officers, NCO's and soldiers of Plate Lombarde strongpoint,was not actually attacked.
On June 23, an Italian attack of 1st Alpini started from Gypière pass, occupied the Chambeyron refuge and landed in the vicinity of the Fouillouse- Haut strongpoint.
They were slowed down by sections of 3 scouts-skiersplatoon, 299th Alpine Infantry Regiment, then attacked by artillery, which stopped and dislocated them.
Part of the battalion withdrew towards the Chambeyron refuge, the other part, made up of two companies, infiltrated the woods towards Saint-Antoine.
Both companies were constantly harassed by artillery.
They did not pass.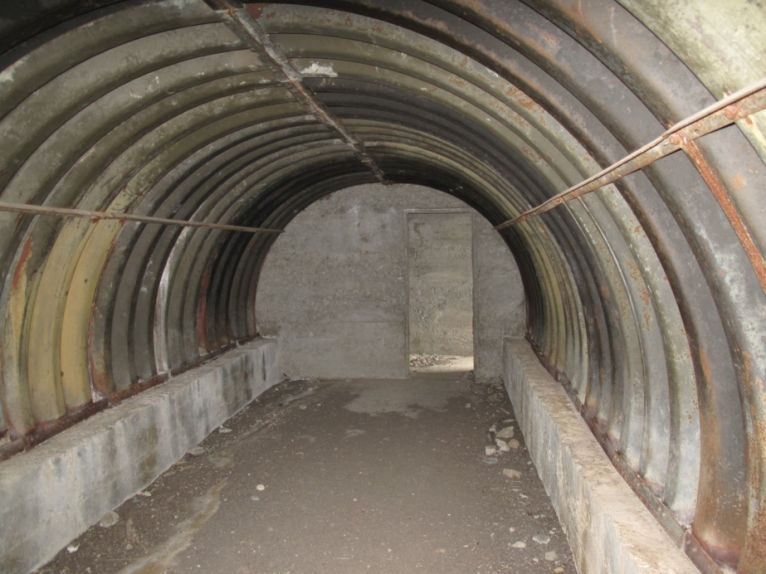 Abri du point d'appui de Fouillouse. Coll Patrick Armand via Wikimaginot
Durant la tentative de pénétration italienne du 22 juin, ce point d'appui n'est pas attaqué, étant bien protégé par la vigilance des cadres et soldats du point d'appui de Plate Lombarde.
Le 23 juin, une attaque italienne du 1er Alpini part du col de la Gypière, occupe le refuge de Chambeyron et se présente dans la zone de combat du point d'appui de Fouillouse Haut.
Ils sont freinés par des groupes de la section d'éclaireurs-skieurs (SS) n° 3 du 299e régiment d'infanterie alpine (RIA),
puis sont pris à partie par l'artillerie qui les arrête et les disloque.
Une partie du bataillon se replie vers le refuge de Chambeyron, l'autre partie composée de deux compagnies s'infiltre dans les bois vers Saint-Antoine. Les deux compagnies sont en permanence harcelés par l'artillerie.
Ils ne sont pas passés.
Point d'appui de Fouillouse
Le point d'appui (PA) de Fouillouse est composé de quatre blockhaus pour arme d'infanterie et de deux abris alpins, et d'un grand nombre d'emplacements de combats creusés dans le sol, en pierres sèches, ou sous rondins
Chronologie
– 22 Juin 1940 : le bataillon « Dronero » de la 4e division alpine italienne franchit dans la matinée le col de la Gypière, et prend le refuge de Chambeyron avant de se diriger vers le PA. Arrivant au niveau des réseaux de barbelés du PA, ils sont pris à partie par l'artillerie de position française, tirant depuis Serennes, qui les disperse. Une partie des assaillants se replie et l'autre se rend aux défenseurs du PA.
– 23 Juin : dans la matinée, le bataillon « Dronero » retente une attaque sur le point d'appui. Ils sont arrêtés au niveau du réseau de barbelés, et les tentatives de contournement par le Nord sont repoussées par l'artillerie et les hommes de la SES du troisième bataillon du 299e RIA. Dans l'après-midi, le bataillon « Dronero » soutenu par le bataillon « Ceva » parvient à contourner le PA par le Nord et à atteindre la vallée de l'Ubaye, où il est arrêté à nouveau par l'artillerie. Les troupes italiennes refluent alors vers leurs bases de départ sur la frontière en ne laissant derrière qu'une garde entre le refuge de Chambeyron et le col de la Gypière.
– 24 Juin 1940 : bien qu'ordonnée par le général Bettini, commandant du IIe Corpo d'Armata, aucune attaque sérieuse ne sera lancée par les deux bataillons italiens, sérieusement éprouvés.
À l'armistice, là comme ailleurs en Ubaye, les défenseurs sont victorieux. Les Italiens n'ont fait que mettre la pointe des pieds en France.
La 2è photo du dossier Fouillouse est vide